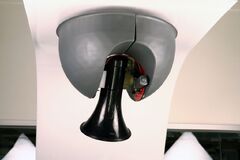 Fofoque-me is a motorized megaphone to share out loud public opinion in the city.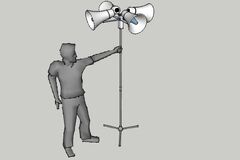 The project explores the possibility to send a sms or a voice message directly to a series of megaphone devices shouting anyone's message in the public space.
Project background
Edit
The project is an original work by Thiago Hersan and Radamés Ajna, who were invited to participate in an exhibition called Multitude.
The exhibition was based on the writings of Antonio Negri and Michael Hardt and their concept of multitude, and focused on works that address forms of resistance to established power and pre-established channels of legitimization, while thinking of the crowd as a set of singularities and unique identities that affect each other in a process that combines power, but also dissent.
They proposed to build a set of robotic sculptures that would allow visitors to participate in the exhibition by sharing their opinions using a system that would turn anonymous sms text messages into voice.
Instructions
Edit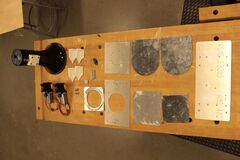 Follow this link to the Instructables page dedicated to the project.
Thiago Hersan - portfolio
Radames Ajna - profile
You want to replicate this tool with the help of a streettoolbox contributor? You can contact us to talk about it at info.streettoolbox@gmail.com
Ad blocker interference detected!
Wikia is a free-to-use site that makes money from advertising. We have a modified experience for viewers using ad blockers

Wikia is not accessible if you've made further modifications. Remove the custom ad blocker rule(s) and the page will load as expected.